A CENTURY OF CHANGE FOR CHILDREN
Save the Children is celebrating its 100th birthday. 2019 marks 100 years since Save the Children launched its first campaign to protect children suffering in the aftermath of the First World War, and today we are calling for urgent action to STOP THE WAR ON CHILDREN.
Save the Children's founder, Eglantyne Jebb, was right when she observed that "EVERY WAR IS A WAR AGAINST CHILDREN".
Save the Children 3-year global Stop the War on Children campaign in Ukraine will focus on reducing attacks on schools and children by advocating for the endorsement and implementation of the Safe Schools Declaration.
Launch of the campaign in Kyiv was an opportunity for children from the contact line, their teachers, school authorities and local partners, as well as representatives of Ministry of Education, UN Resident Coordinator, Norwegian Embassy, ECHO, UNICEF, and Ombudsman's Office to speak about how to protect children in conflict. They all agreed that the consequences of any war on children, including the one in Ukraine are terrifying, devastating and life-long.
HERE ARE SOME PHOTOS AND QUOTES FROM THE LAUNCH OF THE CAMPAIGN:
"FEW THINGS ARE MORE IMPORTANT FOR A CHILD THAN TO FEEL SAFE ON THE WAY TO SCHOOL AND IN THE CLASSROOM", said Fredrik Arthur, Deputy Head of Mission from Norwegian Embassy in Ukraine.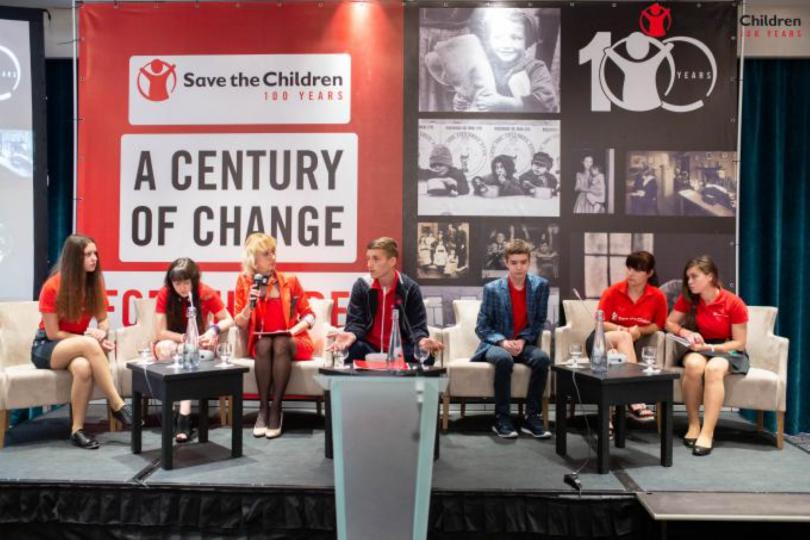 "IF THE GOVERNMENT DOESN'T ENDORSE THE DECLARATION, I WILL PERSONALLY REACH OUT TO INFLUENCE THE MINISTER TO ENDORSE IT", said one of the children from the podium.
"YOU IN SAVE THE CHILDREN TRAINED US, AND WE WILL TRAIN OTHERS. AND THIS WILL BE A CHAIN REACTION", said one of the children panelists, while speaking about Safe School approach as part of the Schools as Zones of Peace project.
"HOW MUCH BLOOD DOES THAT WAR NEED? HUGE MONEY IS INVESTED IN THE WAR AND IN TANKS, AND NOT IN CHILDREN",said one of the children panelists.
#STOPTHEWARONCHILDREN